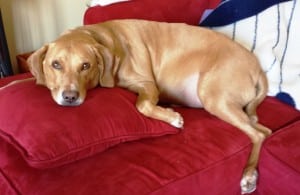 RIP Grady                                                                                                          April 2, 2015
This absolutely wonderful boy lost his battle with cancer and gently crossed the Rainbow Bridge.  Our hearts are so heavy having to say goodbye to Grady, but are so grateful to his loving family for showing him about love.  RIP Sweet Grady.  You will be missed by all who knew you.  Time to run free. ♥
Words from his family,
"We wanted to let you know that Grady's battle with lymphoma ended today and he is now at the Rainbow Bridge. He had a courageous fight and stayed feeling well for over 12 weeks. We are truly saddened by the lost of our furry family member. Though our time together was not as long as any of us wished it would be; the quality of our time makes up for it." 
 Thank you for bringing us together and allowing us to love and care for Grady!