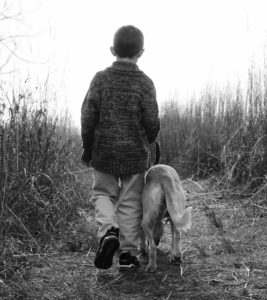 11/12:
Sunday, we went on an adventure to Knollwood Garden Center where dogs are always welcome. Lola was such a good girl and we're proud that she has tamed her jumping when she gets excited. Now, she just sits on her tail and it wags so fast she looks like she might take off! She is so full of love she just can't seem to help it!
Early last week when in the closed garage for only 5 minutes scoping it out, she decided to jump through the driver's open window and was curled up like a deer in the back seat! She is one very agile girl with the ability to surprise us every day!  We no longer need to crate her at night and this cuddle bug is content moving from bed to bed. We still crate her if we leave the house. Lola has also become very proficient ringing the bell to go outside.
We are happy her GPS collar arrived Sunday and today was our first day with it. The collar is AWESOME! It lets you set a geo-fence which is a bubble around our house. If she leaves the bubble, it sends an alert. You can track her movements in the yard and then if she books it out of the fence. It tracks her walks and how many "paws" (steps) she gets in a day. Super perfect for Lola! There's even a Lola alert I can turn on if she gets lost. Her collar starts saying "My name is Lola! Call Emily at (cell #)" Worth every penny. We feel confident this will help keep this curious girl safe.
11/4/19 FOSTER UPDATE: Lola has gone on some new and exciting adventures now that she has figured out how to jump off our deck, into a bush, and land swiftly on her feet! Although she has not navigated jumping over our 5 1/2′ fence, she found the distance over the lower fence from the deck can be achieved. Now that she is required to be outside on a leash, she doesn't get the chance to party with her nature friends or the blowing leaves. Consequently, she will require a taller or invisible fence or leash walks to keep her safe.
She chewed through zip-ties on a crate only to break free and party like an animal. She also chewed through the leash in a matter of less than 5 minutes while in the back seat. She doesn't like to be confined, and this is the secluded times we've witnessed any chewing.  Fortunately, she has not escaped from our studier crate. Putting aside these manageable situations, Lola's numerous attributes, and we adore her.
She is very food motivated which makes training her easier. Lola is great in public areas. She is content being around us so she doesn't really have a strong drive to be anywhere else.  She has learned to reliably go to the back door and ring the door if she needs to go out. Lola knows her name and quickly responds when called. (Important to know if adopter chooses to change her name). We think remote collar training could be a excellent alternative for her. Once she is adjusted to her family, she is great on a leash and enjoys her 1-2-mile daily walks. Lola also plays well with our other two labs and is fantastic with our 7-year-old son.  She has not been introduced to cats. Lola has adjusted beautifully to her daily routine. Although she comes out of her crate with excessive energy, that is followed by good morning licks and leaps, drink, outside, inside, chow, wrestle with our Lab, rest. Lola is possibly the cuddliest pooch. It's adorable how she'll curl up on my husband's lap, and we love seeing her stretched belly up in the evening.
10-20-19 FOSTER UPDATE:  Lola got into the fall spirit today and went pu'pkin hunting! She went alongside her other 2 furry foster brothers and Kurt led the pack letting everyone at the pumpkin patch know she was up for adoption. Lola loved the attention from all of the kids. She really impressed us when she started posing for pictures on hay bales and piles of pumpkins! She was a natural!
We have been taking her on longer walks since the days are so pretty. We go closer to 2 miles this time of year. She's great on leash and stays with the pack. We have a 5 1/2′ fence and she's shown no signs of wanting to escape. She seems perfectly happy being chased around by Kurt and Reece. They don't really give her a lot of time to contemplate escape routes!
       If we take trips without her, she heads to the crate easily enough with a little complaining afterwards, but then calms. She slept in the crate last night without a peep and woke up around 8am ready to go outside.